"Got back to my prebirth weight & I'm more fit than ever"

"The other mums are all enjoying the ride with you"

"I joined about 2 years ago & it was the best decision I made"

"I tried other gyms but my kids didn't like them"

"Active Mum Helps Me Exercise Without Causing Harm To Bub"

"I've Noticed A Massive Difference In My Energy And Motivation"

"I didn't want to give up exercise just because I'm pregnant"

I joined Active Mum when I was 15 weeks pregnant, I was excited to meet new people (other expecting mums especially) and I wanted to try and maintain a level of fitness through my pregnancy to help with the labour and make sure I had the healthiest baby possible.
I came back to Active Mum after the birth of my beautiful baby boy because I wanted to be healthy and fit again. I wanted to reach my goal weight, be able to run for 3 kilometres at 5 minute a kilometre pace, fit into my old jeans, wear my blue dress to my friends wedding and feel comfortable to wear my swimsuit. Since I started exercising with Active mum after the birth of my son I have lost almost 10 kg reaching my goal weight 2 months early. I was able to comfortably run the 9-kilometre Sydney Bridge run, as well as meeting my other running goals. I now fit into my old jeans and wore my pre-pregnancy swimsuit without feeling self conscience. When I started back to exercise I could only do push ups on my knees and could only get out a couple before I needed to have a break now I can easily do at least 12 full push ups on my toes without stopping to a cadence. I feel fit and healthy and strong.
The best part of joining Active Mum has been the friends that I've made. When I was really tired after no sleep with a crying baby and lacking any motivation to get changed from my PJ's and leave the house I knew that once a got to class that the wonderful ladies would help me get through the class and at the end I would feel great and feel like I had achieved something.
The instructors are all so positive, inspiring, and push us to work hard whilst ensuring that we do all the exercises within our abilities. The instructors have been able to tailor the exercises to consider my pelvic pain, abdominal separation and sore wrists whilst still ensuring a get an excellent workout.
One of the other excellent parts of Active Mum is that while I exercise I get to include my son, I don't feel bad about doing exercise and missing that time with him because he is there with me, sometimes asleep in his pram, other times on the mat next to me and other times he's in my arms because I can't put him down without him crying. During all of this I am still doing exercises that have contributed to me feel fit and healthy.

I have been attending the Mums and Bubs classes, twice a week, since my second daughter was 6 weeks old.
I wanted to join an outdoor exercise program that catered for mums with babies and this was one of the only ones I found in the Greater Western Sydney.
Losing weight wasn't necessarily the goal for me. My aim was to get out in the sunshine, get fit, increase my energy and tone up.
I am happy to say I am achieving all my goals, with the added bonus of losing over 9.1% of my bodyweight (6 kilos) since I started and I lost a further 17cm across my body in the 8 week Christmas Blitz program. I haven't weighed 60kg since I left high school!
All the trainers are fantastic, encouraging, knowledgeable and always happy to push you that extra bit so you can achieve your specific goals. The other mums are all lovely and welcoming and everyone is there to support each other.
I would highly recommend this program to any mum, grandmother or woman wanting to get outside and get active.

During my pregnancy I gained 37kg. After giving birth to my son in Feb I weighed 87kg . Feeling very uncomfortable and self conscious I decided to join Active pregnancy Active Mum . An amazing and supportive fitness class where everyone helps each other to reach their goals . nine months later I am back to my pre pregnancy weight of 58kg. Thanks to Active Pregnancy Active Mum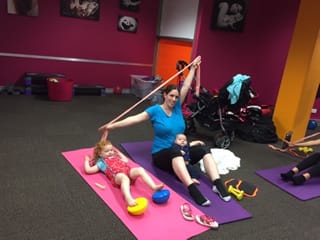 Love how easy Active Pregnancy Active Mum makes it so we can exercise with our kids! It's so important to me that my kids see me active and know it's part of everyday life. Thanks Active Mum:)

I love your pilates classes as they were a simple and effective way to get back into shape in an environment designed for women both pre-natal and post-natal.

Hi Julie,
Thanks so much for organising this challenge. I thoroughly enjoyed participating! I hope more are done throughout the year!
The whole experience was fantastic and the support wonderful. My only suggestion would be to have more of them :) such a great sense of community at Active Mum. I'm really happy with the results I achieved and look forward to getting back into the classes when I get back from Fiji. Lauren took my final measurements last Friday before I left.
Thanks again :)

"We're able to empower each other & push each other further"

"I can look after her as well as train and have great results"

"It's a warm and supportive environment"

"From being scared to run to now doing pushups from toes"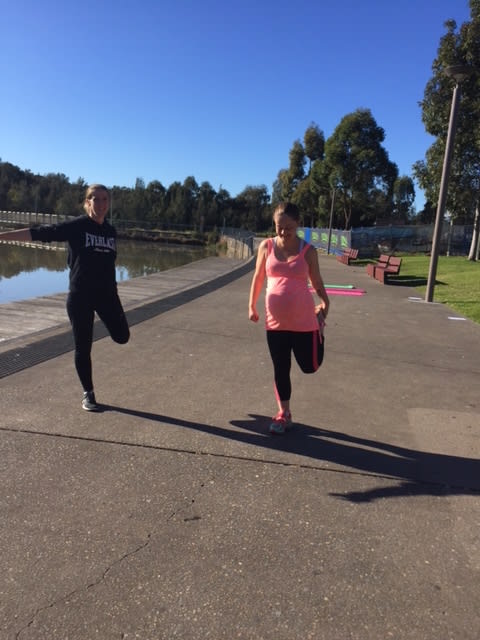 Just under 38 weeks pregnant, and I've decided to retire from Bootcamp.........but just like Farnsy, it won't be the last time!!
Thanks girls for making 8am on a Saturday so fun and entertaining! Our antics have really got me through some challenging times in my pregnancy. It's meant having a milestone as I ticked off the weeks.

I will enjoy my sleep in next week though!!



Hey Julie,
It was lovely to see you again today. Reminded me why I joined active mum in the first place. You are awesome. Keep up the good work.
Looking forward to my assessment in Monday. See you then.

Dear Julie, I just wanted to pass on what's been happening as I've been feeling quite well with the Pubis Symphysistis, even at this point of 28 weeks... I've mentioned to Lisa and Mel how much stronger I've been feeling and wasn't expecting to feel a lot less pain this time, this late in my pregnancy... I believe the Active Preg classes have helped so much and have now been confident enough to keep up with the ordinary routines of the class. Thanks!
I love that Active Mum gives us a platform to exercise with our kids. From a young age they get to participate and learn how important an active lifestyle is. Sienna's the only person I know that voluntarily does burpees. Hahaha

I never thought that by joining active mum my life would change as much as it has. It's not just health or weight or fitness, it's everything — self belief, strength , support network ,positive thinking, and an overall happiness
These are all the things active mum have given back to me.
After having my first daughter Violet 2years ago I found it hard to get the time I needed to regain my fitness, and being someone that fitness had taken such big part of mylife before having children I found it hard to be happy without it.
But once I started with active mum I Was offered everything I needed to get control of my body and health again.
Active mum taught me to make the most of every day and to never miss an opportunity to improve your wellbeing and most importantly they showed me how to do all of this including my daughter in ever step. After having Violet I suffered a back injury that had me unable to even lift my daughter and it was active mums support that helped me to fully recover from this injury. Now I am once again faced with an injury post birth. Having given birth 9weeks ago after a traumatic labor I have been left with a sever back injury that has me facing spinal surgery in the upcoming weeks. Receiving this news has devastated me as my health and my fitness are so important to me.Than to be told I was in sever danger of loosing the ability to even walk sent me in a downward spiral that had me eating poorly and feeling depressed.t was my husband who suggested I talk to the team at active mum to see if they could help.I sent an email off as I was even to depressed to call and explain the situation and how I had let it overcome me to the point I was eating chocolate at breakfast lunch dinner and any snack in between. The next day I received a ph call that made me feel better about myself that person made me realize the only way to face this was to pick myself up to start eating healthier and to work on my fitness and strength so I could enter this surgery as the healthiest, strongest and fittest version of myself. So to answer the question how has active mum changed my life it has given me the strength to be able to face and overcome any physical or mental challenges that have risen in my life as a mother, knowing that with there support I will come out of them healthier, fitter, stronger, happier and most importantly the best mother I can be.

I would like to share my story with you.
I am probably not your average member of Active Mum.
I joined in January 2015 as i was very generously given a voucher for some classes. I initially did 2 pilates classes a week and 1 bootcamp as the main reason for attending was a long standing shoulder injury which was causing me pain and limiting my movement of my right shoulder. As i am right handed this was a little frustrating at times. A few weeks after starting the pain and movement was greatly improved, with the added benefit of my becoming fitter as well. I have since joining completed a 9km fun run in September with 8 other very special women we completed the run and raised money for 'Bears of Hope' charity.
During my time at Active Mum i have met and made friends with some very special women who are supportive, encouraging and fun to be around. The instructors are supportive and will modify the exercises for your ability, if you have an injury or if you have physical limitations and help you to improve along the way.
During my 11 months I have besides strengthening my shoulder, lost 37.5cm from all over and 5kg. I am feeling much fitter, healthier and happier in general. And as of next week will again be riding my motor bike which i have not done for some time.
The reason i am not your average member is because unlike a lot of the women at Active Mum my children are grown up and i also have a grandchild. So as you can see Active Mum is for all ages not just pregnant women and new mums. You will find that each of us has a different reason for being here and each of us enjoys our time at Active Mum.

I started the Active Mum classes 7 months ago and I've lost 11kg and gained a level of fitness I thought was unattainable for me. I cannot thank Julie and her team of wonderful trainers enough for how much they have changed my life. I have been trying to lose weight since high school and I've never managed to do it on my own. I was never able to maintain my motivation to exercise and dieting was hopeless with the very little willpower I possess. After having a child, my weight was at it's highest and I knew I needed help to lose it.
My first exercise class was a shock! I had never done such intense activity before. I was exhausted but I felt good because I knew I had taken the first step down the right path. From the beginning, I've felt supported and encouraged by all the trainers and other mums in the classes. It is such a wonderful and unique environment. There is no pressure to be perfect, you are encouraged to simply do your best and take things at your own pace.
I genuinely believe my weight loss success is purely down to the active mum classes. My diet hasn't changed much so I know the exercise has made the biggest impact on my weight - the right kind of exercise too. All the classes are challenging but they get results because the trainers know their stuff and their enthusiasm for what they do gets me motivated. I can see they want me to succeed and I get so much inspiration from them. Being in a group of like minded mums also keeps me motivated in a way that no gym or other fitness group would.
My only regret is that it took me nearly 2 years after my daughter was born to start these classes. I wish I had begun sooner but now that exercise is a regular part of my life I will make sure it remains so, for my own health and as an example to my daughter. I am such a different person now, closer to the person I always wanted to be and I have Julie and her team to thank for that.


In the past 8 years no one has had the effect on me that you and your team have had on my life with my health and mind. Sending happy vibes your way 💐

I really enjoyed the class on Thursday. I felt really welcomed, the class was a good work out. I also felt it was a relaxed environment with my toddler climbing all over me! The instructor was lovely and very cheerful. I look forward to my class next week... Wish I could afford to go more than once a week!!!

I started training with Active Mum from March this year 2014. As a mother of 4 children, 2 at home and 2 at school, I was looking to do exercise outdoors and needed the flexibility of classes. I currently do 2 morning classes a week. Now 6 months on, I have had results with toning, strengthened my core muscles and increased my upper body strength. Plus the cardio fitness on top of that. I couldn't do more than 2 push-ups before I started the classes, now I can do more of them.
Active mum classes are targeted specific to women's bodies, they know what areas of the body to work on. Having your children there with you while you are exercising is great even though it may seem that it is all too hard to lug your kids to exercise class, I feel so much better after doing a class and find that I have more energy to get through the day. It is also encouraging for them to see mum exercising and set them up for their future to hopefully instil in them that exercise can and should be a part of your daily life. Also it gives children an outside experience for an hour that they may not get sometimes when we are at home or busy running around doing errands.
The trainers are lovely and are able to tailor every exercise according to your fitness level and strength and whether you have a baby in your arms or pushing in them in the pram. It all works somehow! I would recommend Active Mum classes to every woman no matter what stage they are at.

I joined Active Pregnancy Active Mum in May 2011 and it has been a life changing event for me. Ideally, I wanted to lose 30kg and I wanted to exercise to strengthen my back. My lower back problems were getting worse and I knew being overweight was not helping. When I first joined up, I was under the illusion that lack of exercise was my main problem - I thought if I could get into an exercise routine, I would lose weight without much effort. Boy, was I wrong!
From May to August 2011, I did 3 classes a week and I only lost about 3 or 4kg in total - I could only do low impact exercise because of my back pain. My fitness was improving and I was building muscle but the weight loss wasn't significant because I was not watching what I was eating. But one very significant thing did happen during that time - I developed a love of exercise. For the first time in my life, at the ripe old age of 35, I genuinely enjoyed exercising and I committed to those 3 sessions a week and didn't miss them for anything or anyone. There were many reasons I enjoyed the classes: being outdoors (I always hated smelly indoor gyms and exercise equipment), meeting other mums etc. However, the most significant reasons were Julie and Maryanne. Julie made me feel comfortable from my first interview with her and both her and Maryanne were aware of my back problems and helped me exercise within my limitations. I LOVED and still love them both - yes, they are my heroes! They are the reason I kept going back to the classes - their kindness, caring nature and wisdom drove me to improve and push myself at every class, despite my back pain.
In August 2011, I put my back out in a major way despite all the exercise I was doing to strengthen my core and I was out of action for a few weeks. An orthopaedic surgeon diagnosed me with arthritis in my lower back and recommended cortisone injections and possibly surgery. That was enough to cause me to panic because I knew my body does not react well to surgery or drugs. During that time, Julie kept in contact with me to check on my recovery and I made her promise that if I didn't go back after a few weeks, she would come knocking at my door to drag me back to classes. She didn't have to do that, I missed the classes too much! I was very fortunate at that time to find an osteopath who was brilliant and knew exactly how to fix my back problems without drugs or surgery. He said that there is no point strengthening muscles around a bent structure - fix the structure then strengthen the muscles. After only a couple of sessions with him, I was back to doing my low impact exercise and in December 2011 I started jogging for the first time in years. There are still exercises I can't do because of my back but I know every low impact option for every exercise and I just do my own version of them during the classes.
When I put my back out I also made a commitment to change my diet. I went through phases of giving up different things such as sugar and other carbs but I knew that was not sustainable long term - I love food too much to give anything up! Finally, common sense prevailed and I ate everything but in moderation and that's when the weight started falling off. I lost 20kg in total between September 2011 and April 2012 but I still wanted that magic goal weight in the middle of my healthy weight range and that was another 10kg away. My husband's unconditional love and support were invaluable to me during this time. Julie was the most significant inspiration for me because I discussed my progress with her on a weekly basis and she was always so encouraging and full of practical advice on how I could improve and sustain my efforts. Julie, Maryanne and Reiana pushed me during the classes to reach my potential. I will never be one of the fastest runners in class but I have made huge improvements on a personal level and that's all I want – to push my limits without comparing myself to others. For me personally, I think that exercise only contributes about 10 to 20% to weight loss – a healthy diet is the key. However, exercise is invaluable, because it supports a healthy diet – they go hand in hand. Exercise makes me feel better physically and emotionally, fitter, stronger and more able to take on the daily challenges of work and home – a healthy diet alone just won't do that for me.
There was a happy setback in my weight loss journey in June this year when I fell pregnant. I had been trying for 6 years to have another child with no success and finally it happened! I am sure my husband won't be too impressed when he reads this but I owe part of my pregnancy to Julie, Maryanne, Reiana and my osteopath!!! I have obviously put on weight during my pregnancy and my food portions are unfortunately no longer moderate but I am still enjoying my 3 exercise classes a week - I do 2 Active Mum & Bub classes and 1 Active Pregnancy class a week. I have 11 weeks to go in my pregnancy and I still feel fit and happy and I push myself as much as I can in every class, especially when Maryanne does the Active Pregnancy classes – I almost fly off that fitball and punch holes in the walls during the boxing tracks! I can't wait to have my baby and start doing all the Active Mum & Bub classes and get back to running! I never ever thought I would look forward to exercising let alone strenuous running!
Julie, you know how much you mean to me and how much you have done for me - I thank God every day that I joined your classes last year. Maryanne, you inspire me to push myself at every single class and you always put a smile on my face while I am working my heart out. Reiana, your friendship and support mean so much to me. The three of you are a blessing and an inspiration and have truly been lifesavers for me in the past year and a half. I hope I tell you enough how much you mean to me and how much I appreciate your guidance and your friendship. With your help, I am fitter and healthier than I have ever been. I am a better wife, a better mother and a better role model for my beautiful boy William and hopefully for my soon-to-be-born baby.

Loving the classes. They are just enough movement and exercise to make you feel like your doing something for your body during pregnancy but nothing to strenuous so you won't want to come back or be on pain. Loving the little meditation at the end. Perfect way to start a weekend!

I am really enjoying the class and the instructor is fantastic, my aches and pains are gone since doing the class and people keep commenting on how mobile and agile I am considering I am 38 weeks pregnant. I've also enjoyed socializing with other pregnant women which I'll hopefully do at your Active Mums & Bubs

Joining Active Pregnancy Active Mum was life changing for me. I started training 8 weeks after having my second baby. I weighed 84kgs when I started training and now, after 9 months, I weigh 66kgs. I lost 18kgs by eating healthy and exercising with Active Pregnancy Active Mum.
My fitness levels are at their best and I feel more confident than ever! The very friendly trainers are excellent at supporting me and keeping me motivated to be the best that I can be. I've also found comfort in training with mothers in the same position as me. It makes losing weight and getting fit not as daunting. I've met so many lovely people and being able to bring the kids is fantastic as well.
A huge thank you to Active Pregnancy Active Mum for helping me achieve my goals! I highly recommend it to all the mothers out there that want to get fit and healthy!

I really enjoy attending the Active Pregancy classes. The classes provide a positive, non-judgemental space to meet other soon to be mums who live in my area and have been a great opportunity to practice exercise that helps to keep my body happy and healthy during my first pregnancy.

I would also like to thank you for your constant support and encouragement all throughout my pregnancy, she has been a fantastic trainer.
Lastly I would like to say a big thank you to you for exposing me to this beautiful world of pregnancy exercise. It was helpful to me all throughout my journey, kept me active and energetic, as well as helped me reduce my aches and pains by maintaining postures with your handy tips.
Thank you for all of your emails and care during my pregnancy. First of all let me say your a fantastic trainer and it makes my exercise routine very comfortable and enthusiastic. I have benefited from your classes. and I will be going ahead with and continuing till last stage of my pregnancy.

Since starting at Active Pregnancy I have felt a huge benefit both physically and mentality. The classes are well run and it's great to keep fit in a friendly atmosphere with other women who are all at different stages of pregnancy. Thank you.

I joined the active pregnancy classes just after my first trimester and I am thoroughly enjoying it into my third trimester. The instructors are great and it's a fun 1 hour session that has helped me stay active throughout my pregnancy. It's helped with aches and pains and has given me confidence to continue exercising in a safe and fun environment with other expectant Mums. I've just increased the number of classes that I attend per week and I look forward to attending for as long as I can. I would strongly recommend the classes for other Mums to be

A friend put me onto Active Pregnancy Active Mum. I am 24 weeks pregnant with my second child & have been doing the pregnancy classes for the past 8/9 weeks. I think what I enjoy most is exercising with other pregnant women & knowing that the exercises are safe. During my first pregnancy I exercised at a gym on my own & I think in hindsight, pushed myself too hard. It is much nicer exercising in a group situation & a lot more motivating too!
Knowing I had a child Julie suggested the Mums & Bubs classes to me also informing me that they can modify these classes to suit pregnant women. I thought this was wonderful because I find it difficult trying to find time to exercise with a 2yr old. So...we did our first class last week & my daughter & I both loved it! I was a little anxious about how she would go - but I needn't have worried because she loved it. There were other little kids she was able to play with & she even participated in some of the exercises too! Looking forward to continuing with both the pregnancy & Mums & Bubs classes until bub is born & then hopefully continuing the Mums & Bubs classes with number 2!

I have really enjoyed my Active Mum & Bub classes! The instructors are all very thorough and well informed when it comes to each person's particular requirements and conditions which I think is so important. The best part about the classes for me has definitely been watching my little one enjoying herself whilst I am working out - this is such a fantastic opportunity to combine exercise and being a Mum all at once!

Active Pregnancy has given me the extra motivation to ensure that I stay healthy and strong throughout my pregnancy. Julie makes it so fun that you can't wipe the smile of my face when I am doing the class as I find them so enjoyable and a little bit of me time! It's the best thing I have chosen to do since becoming pregnant. Thank you Julie!

I joined the Active Pregnancy class quite early in my pregnancy and have been so impressed! The instructors are lovely, highly energetic, friendly and non judgmental. I have learnt so much from the class, as it is quite scary in your first pregnancy not knowing what your limits should be in terms of exercise. I feel toned and more positive, and always feel great after going. Fun music is played throughout the class and it's always very uplifting. Highly recommended to anyone who is pregnant, no matter how early or advanced. Thank you!

I researched mum and baby exercises for while then I found active mum and I was so happy to find a exercise group that I could take my baby to that wasn't going to brake the budget and I just love the classes it has been a great way for me to get back into exercise after having Violet, I started classes when she was 10weeks old straight away I felt comfortable and in great hands as the classes cater for all levels of fitness and help you regain you strength, tone and shape whilst catering for any concerns you might have post baby. Also is a fun time for bubs Violets first laugh was in this class she loves doing squats haha we have fun together whilst I'm getting a great workout.

I've really enjoyed my pregnancy, while I have gained a lot of weight I don't feel heavy or immobile and I definitely think joining the classes has helped. The classes are lot of fun and designed with the right level of flexibility based on how you feel on the day. Since joining Active Pregnancy I have found my energy levels have been high and at 34 weeks I'm still feeling fit and healthy. I think continuing to exercise while pregnant is really important, especially in preparation for giving labour, Julie and Michelle make sure it's safe, fun and it's great to be in a class of women in the same boat.

The Active Pregnancy classes have been of huge benefit to me. Julie's sessions are always fun and upbeat, and I have been able to keep fit, strong and healthy all the way through my pregnancy.

I would like take this opportunity to thank you for what you have done for me personally.
I never felt 'safe' exercising in a gym or group environment before, always preferring to do my own thing. What I have found in your classes is a friendly, fun and safe place for me to build up from being extremely unfit and having multiple injuries, to being able to just go for a 2km run if I feel like it. I love that I'm choosing most of the time to do the advanced options of exercises instead of the easiest ones I was doing at the beginning. I also recommend your Awesome Abdominals class to anyone who will listen, as I firmly believe it is something every woman should know.
I have also experienced amazing changes through your eating program. I am so very happy that I am back to my high school weight, but much fitter than I was in high school. Eating simple, delicious healthily meals through your program has been a catalyst for my own healthy eating journey, as I'm now seeking out ways to provide my family with whole foods as much as possible ( a "phasing in" I'm calling it ) and looking to eliminate processed cane sugar from my diet altogether as it is a serious problem for me. I love feeling so much more energetic from putting these healthy foods in my mouth, not to mention getting rid of that sluggish feeling in my guts. I also have a super flat stomach again as I no longer suffer from bloating!
All in all I just want to say a big thank you for the work you do in your business, as it has meant a year of positive change for me. Hope to see you in class soon.

I have been attending Active Pregnancy since week 13 of my pregnancy (I'm currently 33 weeks). Being my first pregnancy I wanted to remain active however needed a safe form of exercise which is what I found at Active Pregnancy. All the instructors are experienced, friendly, supportive and are happy to answer any questions. The classes consist of cardio, strength training and kegels. I enjoy the social side of the classes too and have met a lot of expectant mums. Working full time I find the timetable great with evening classes throughout the week and the early Saturday morning class. I am looking forward to participating in the Mum and Bubs class once my little one arrives.

One of my biggest priorities once we got the great news was to find a way to exercise that was safe and tailored to my changing body/needs and came across the Active Pregnancy Classes. I really look forward to attending class twice a week and have enjoyed meeting other local mums to be. I always feel great after each class, have more energy overall and like that the Trainers ask how we're doing and if there are any particular aches and pains that they can help us address, like safe stretches for back pain etc. I particularly enjoy the circuits that involve both cardio and strength workouts, they're fun and hard work at the same time and if we're having an off day the Trainers always advise on how each individual can make the exercise easier or harder depending on what they are individual up to on the day. I have been attending the classes for 10 weeks now and will continue to do so up until baby arrives. I'm already looking forward to enrolling in the Active Mum classes!

I really enjoyed the Active Pregnancy Exercise Classes. The combination of cardio and strength training with stretching and relaxation at the end of the class was great. Keeping active with the classes helped improve my back pain and boosted my energy levels when I was feeling tired. It was lovely to meet other pregnant women in the local area also. I highly recommend the Active Pregnancy Exercise Classes.

The exercise classes (even the few that I managed to fit in) really helped during labour as I was much more comfy using the exercise ball etc.

I loved the active pregnancy course which I had attended from 13 weeks. Please pass on my thanks again to Kate – she was great! Can't wait to get back into the swing of things with mums and bubs classes soon!!! Thanks everyone!

I loved being part of the pregnancy exercise group and look forward to joining Mums and Bubs exercise in a few weeks' time!

I meant to email earlier to tell you how much I enjoyed and valued the abdominals course. Firstly, it was great to be a room with other women with similar issues. Secondly, it was great to have the children minded and to be able to focus on myself. It was validating to have the particular issues I was having with back & hips listened to and seen as important, rather than just being 'expected aches & pains'. And it was empowering to be given specific things to do which would mean that those 'aches and pains' didn't have to be a permanent condition. The course was well put together and your manner knowledgeable, warm and understanding. Thank you again.

I had a great pregnancy, birth experience and recovery and I believe so much of it is due to you guys. I felt fit for my pregnancy after boot camp and felt great during pregnancy thanks to those classes too. Now I can't wait to pass my 6 week check and try out the mums n bubs classes! I only put on a total of 5kg throughout my pregnancy and have never received so many compliments. I lost 4kg in the first 2 months of pregnancy and so many people noticed that I didn't gain anywhere except for my baby. Even though I was unable to attend classes because of high blood pressure I kept walking as much as possible. 5 days post-birth I'm recovered, back to my pre baby weight. While I did cheat a little with an epidural from the get go I birthed easily, and recovered even better. I feel great!

I had a great pregnancy, birth experience and recovery and I believe so much of it is due to you guys. I felt fit for my pregnancy after boot camp and felt great during pregnancy thanks to those classes too. Now I can't wait to pass my 6 week check and try out the mums n bubs classes! I only put on a total of 5kg throughout my pregnancy and have never received so many compliments. I lost 4kg in the first 2 months of pregnancy and so many people noticed that I didn't gain anywhere except for my baby. Even though I was unable to attend classes because of high blood pressure I kept walking as much as possible. 5 days post-birth I'm recovered, back to my pre baby weight. While I did cheat a little with an epidural from the get go I birthed easily, and recovered even better. I feel great!

Thanks so much Julie – much appreciated. Your classes are fantastic.

I am feeling good & so much stronger - my husband & I were exercising together today & he was surprised at how much my strength had improved!
I think you have a really spot on name for the Abs class - it is a totally awesome class & has helped me so much - like I said it has really helped with the pain in my back & pelvis to the point where I don't even experience some of the pain I used to before starting the class! Thank you for that!! My clothes also fit better too so I know that I'm more toned - but the scales don't seem to show much of a loss (I do admit having a few food slip ups especially over Easter) but I'm not so concerned about that at the moment as I know I will get there - my main priority was my fitness levels & I have noticed a big difference in those!!

I have found the Active Pregnancy classes to be an invaluable part of enjoying my first pregnancy. Staying active and fit has really helped me to feel well and strong throughout my pregnancy. The trainers are so understanding and supportive, and I appreciate that the class is tailored to be safe and comfortable at different stages of pregnancy. What I enjoyed most was the chance to take some time out from my busy life each week to focus on myself and the pregnancy, spending time with other mums-to-be, and seeing other women keep exercising right up to their due dates. This has helped me to be confident in myself throughout pregnancy and as I approach labour.
Thanks to you for your support during my pregnancy, and especially to my trainer. You guys were a big part of making the whole experience really positive.

I was only pregnant for 10 weeks when I started with Julies classes. I have continued with this to 23 weeks and plan to follow through to end of my pregnancy. I find these classes uplifting and motivating. I tried to exercise on my own but find that it is hard to remember what is best for pregnant women to safely do. Not only is the class instructor, Maryanne, lovely and supportive, but I am surrounded with other women in different stages of pregnancy. It's great to talk to others in the same situation and swap stories. Julie's program keeps me moving and socialising! Absolutely love it!

I started the Active Pregnancy classes at 14 weeks and felt the benefits immediately. It is so comforting knowing you are doing safe exercises that are beneficial for both you and your baby and being able to talk with other women who are at various stages of their pregnancy is an added bonus. The instructors are friendly and motivating and have so much valuable advice to share. I'd recommend the classes to any expecting mother who wants to feel great in a safe and welcoming environment.

In terms of what I have enjoyed about the class – with a 2 and a ½ year old, working part time and having another baby on the way it is difficult to find time to exercise. These classes are great as they not only do cardiovascular fitness but strength training too all in a low impact, pregnancy friendly manner. It is great to be able to have time every week to focus on yourself and bub to be! I greatly enjoy the class and look forward to doing more exercise post bub.

The Active Pregnancy Classes have helped me to ensure the weight gained in pregnancy is a healthy weight gain. They keep me accountable and encourage me to stay fit even when I don't feel like it! As a result I am also eating healthy and feeling great. My energy levels are still high and I'm well into my third trimester. The classes are fun with enthusiastic trainers and great music. They are well worth the money and I would recommend to all pregnant Mums regardless of where they are at in their stage of pregnancy!

I really believe the classes were so helpful for the labour and recovery! I would recommend them to anyone.

I started the Mum & Bub classes when my son was seven weeks old. I was really fit before I got pregnant and stayed fairly fit during my pregnancy so by the time I was cleared by my doctor for exercise I was itching to get back into it. I love the Mum & Bub classes because I can bring my son along. He either sleeps in the pram or if he's unsettled Julie adjusts each exercise so I can carry my son while I do the exercise. The classes mean I never have to skip a workout because I can't find anyone to watch him or because he is unsettled. The classes also taught me about the importance of strengthening my core and pelvic floor. I thought I was getting them back on track but now I realise I can always do more! Being fit and healthy makes looking after my son easier and less of a strain on my body, and gives me the energy I need to be the best mum I can be.

I've found Julie's Active Mum classes a great way for me as a new mum to get back into shape. I love that I can take my baby along and even incorporate him and his pram into some of the exercises! I also enjoy the flexibility of the class - Julie is great in offering alternatives to group exercises if my baby is unsettled.

After six weeks of Active Mum, Mums and Bubs classes I'm almost back to my pre-pregnant body! The classes are varied every time so you never get bored and being able to bring my baby is the best part of all- I can work out and get into shape without worrying about finding a babysitter. Thanks Active Mum for really looking after mums!

I wanted to let you know also that attending active pregnancy sessions helped me stay healthy throughout my pregnancy (although I did eat a lot of chocolate at Easter!) and I am sure also helped me be more aware of my changing body and the muscles that I needed to engage or relax at certain times throughout labour. Thanks again and I will see you in 5 weeks or so for Mums and Bubs!

They are easy to follow and fun and yet you can really get a good workout! I also like the fact that you can take it easy as well, if you are having an off day. The instructors are very helpful and informative and I know these classes are all going towards my preparation for labour and motherhood! I particularly like the wind down meditation at the end of each class. In such a busy life…it's nice to spend 5 minutes connecting with the "miracle" that is my baby!

They are easy to follow and fun and yet you can really get a good workout! I also like the fact that you can take it easy as well, if you are having an off day. The instructors are very helpful and informative and I know these classes are all going towards my preparation for labour and motherhood! I particularly like the wind down meditation at the end of each class. In such a busy life…it's nice to spend 5 minutes connecting with the "miracle" that is my baby!

I joined the active mums body overhaul 10 weeks after having my first son and really enjoyed the flexibility of classes, the bubs sessions at the park and getting to know other mothers that also have a common goal of getting back into shape post baby. I lost a total of 20cm after 6 weeks of training, which is more than 1cm per class but more importantly I feel my fitness levels have improved and I have more energy. I will continue to do the active mum classes as it has been a great motivation in a lovely atmosphere to get back into shape.

Just a quick note to say Thank You!! After having my second baby girl I was tired and lethargic. Although I was running around after a two year old and a newborn I was physically inactive. I have always been quite active and so I went looking for group training that could accommodate my two girls as well as me and I found Active Mum. I have not looked back!! Your sessions are both fun and hard work at the same time and therefore very rewarding. My fitness has come back, I am full of energy again and I am no longer lethargic. Thank you very much, I am looking forward to continuing my sessions with you on a permanent basis.

I just wanted to say a huge Thankyou for the Active Pregnancy Classes. I loved every class! The classes were fun & knowledgeable. Most of all Julie provided a friendly and happy environment, especially when our hormone levels are crazy around this time, it's great to have a laugh. I left every class feeling energetic and happy. I'm looking forward to starting the 'Mums and Bubs Class' later this year.

Thank you so much for all your help, encouragement and support during my pregnancy and when I returned to exercising! Your classes offered a fun way to stay active safely and helped keep me strong during pregnancy. I met lots of lovely people and made friends with other mums. I can't speak highly enough of the service you offer :) I will definitely be keeping your number!

I found the pregnancy fitness classes to be fun, energising, and a great way to get fit! I noticed my strength and fitness levels improve over the sessions, and was able to incorporate some of the stretches and exercises into my everyday routine so that I was reaping the benefit throughout the week, not just when I was at the class. I found the instructors to be knowledgeable and passionate about their work, and loved it that Julie always explained the pre and/or post labour benefits of the stretches and exercises to us.

Active Pregnancy class has been great. Even when I've felt tired at the start of my last trimester I had something to look forward to. The trainer is great at listening and instructing and knows which exercises we all need to do, plus starting the session with cardio and going to strength work is great. I've really enjoyed the tracks chosen and variety of movement. I started at 22 weeks and will be going back to get another 10 sessions. This really has helped me get through work and learn how to unwind and relieve my aches.

I have found that Julie's classes are a fantastic way to not only stay active during pregnancy but also learn about what is happening to our bodies during this amazing journey. The classes are be both enjoyable & informative as each week we learn & practice rountines that can help allievate aches & pains during pregnancy & minimise discomfort after birth. It's also a great way to meet other mums-to-be & share our stories!

I really enjoy the Active Mum classes, they are a vital part of my week. Julie creates a fun and motivating atmosphere and challenges us whilst still allowing everyone to work at their own level. She attracts a small friendly group who are great company to exercise with and I enjoy the effort Julie puts in to make every class different. She is always thinking of new exercises and formats and has new equipment for us try. On a personal level the classes have seen me return to fitness after baby and loose those last 5 kilos that I was unable to budge on my own. I could not believe that my physiological age went from age 34 to age 21 over a period of 6 weeks! I would thoroughly recommend the Active Mum fitness class for fun, fitness, weight loss and getting away from it all!

I really do enjoy the classes, it can be quite hard trying to get myself going, being mentally and physically tired after a long day at work, having a toddler and also being pg; but I always feel better afterwards. It's nice using the fit ball as you don't have to run around but at the same time you get to do all the cardio exercises. I've been active before being pregnant so it's great to still have that cardio benefit. Also the stretches and working certain muscles groups are great as we so often forget about this and I love the way you target the specific areas that affect pregnant women, and educate us at the same time. You don't get this when you go the gym and do general exercises and you don't know if you are working on the right areas or not. And the relaxation is a fantastic way to end, especially connecting with the baby, and not just running out the door when the exercises are over. I also really enjoy the social bit of the class, at the start where we all chat, it's a great way to share our experiences and to bond with the other ladies. Just nice to know we aren't strangers and have a good camaraderie going. Thanks heaps Julie!
The BOH classes are fantastic! I had been to another mums and bubs exercise class when I had my son in 2008 and it was nothing like this. Julie and her team really motivate the team and make it a fun session while working us hard. They are attentive and are aware of our body limits but also encourage us to push a little harder. The classes are full on and you work hard and feel great afterwards. It's makes such a difference that you are doing something just for yourself especially when you are so focused on your children all the time and don't have much "me" time. The plus side is that you also get to include your bubs in the mums and bubs classes. My real testament is that with my son, it took me 1.5 years to loose my baby weight and with Julie, it just took 6 months to go back to my pre-pregnancy weight after having my daughter!

I find the exercise classes invigorating, fun and just the right level of intensity for me. Julie's energy and motivation is infectious and her obsession with our technique makes me feel very safe when exercising.This is my second pregnancy and I only wish I took classes like this the first time around. I've picked up some helpful hints on posture, stretches, pelvic floor exercises and the birth itself. Plus meeting other mum's-to-be has been good.

Just want to say a big thank you to Julie, who, through her pregnancy classes gave my body and mind the strength to have an amazing second labour and a short recovery time. After a traumatising first labour and long recovery, I never really got back into shape and always felt unfit and tired. So, when I found out that I was pregnant again I wanted to ensure that I took care of myself and prepared myself to have the best experience possible. The active pregnancy classes are a great work out in a safe and friendly environment. 4 months after giving birth I joined the body overhaul program and after 6 weeks of fitness and nutritional support i know that i haven't felt or looked this good in years. A wonderful feeling to know that you can run again and enjoy it! Thank you again Julie for creating your business and providing me support through my pregnancy journey. Can't wait to see you for number 3!

I started the Mum's and Bub's exercise class when my son was only 2 months old. What I love most about the class is that you're outside exercising as a group but Julie treats you as an individual. The classes are different each week and so is my son. Julie would understand when he was unsettled and gave me a variation to incorpoate him into the exercise which was fun for him and I didn't have to miss out. I have been doing the class for 5 months, I've got so much more energy and have found it to be very beneficial in getting my pre-baby body back.

I have really enjoyed attending the pregnancy exercise classes as they have helped me to maintain a healthy outlook during my pregnancy and to strengthen my core muscles etc. I know this will help my recovery post-birth much quicker than with my first pregnancy. I also enjoy attending classes that dispell myths that pregnant women are fragile and should only sit around with their feet up. Pregnant women can be strong and in control of their health and that of their baby, which is done in a safe and appropriate way during these classes. The classes are also fun and a good opportunity for time out to take care of one self.

Active pregnancy classes have been great so far, as I progress through my pregnancy, the classes have helped to keep me active in a safe environment. The classes have helped with all the niggling pain you get with pregnancy and have also helped me to strengthen my back. It has been great meeting other pregnant women and hearing their stories and advice. All of the instructors are really supportive and are there to help you every step of the way making sure you are doing everything correctly.

The boxing was awesome, loved that you made allowances for those of us with 'injuries', great that It was outdoors and each session was different. Great variety. Don't think there was anything that you could do better, I loved it!I bought these slim fit pants a while ago and I can now wear them!!!!!! I just need to work on my core a little harder now. Thank you!

I've really enjoyed the regular workouts as part of the Overhaul program. I'm so happy with the results I'm getting. The only way I would get the same from a gym would be to combine the membership with a personal trainer which is really expensive and not something you can do for too long. The Overhaul sessions are a great combination of personal attention combined with the challenge you get when working in a group. I've also had a bit of a tough time the last month or so with a number of things going on. I'm sure that I wouldn't have had the energy to deal with it all if I hadn't been working on my health and fitness. I think that being fit has also helped to deal with the emotions too. Thanks so much for running great programs that are fun and deliver results!
OMG! I just tried on all my clothes and they all fit!!!!!!!!! Thank you

Active Pregnancy Exercise classes have been really enjoyable. It is a comfort to know that the classes are designed and run by people who are dedicated to women's antenatal and post-natal health. Using the fit ball has been fantastic and there is also a good balance of upper and lower body strengthening work. I have also been struggling with pelvis pain throughout my pregnancy and I have been amazed at what a good work out I can actually get by going to the classes, without aggravating my pelvis. The on-site Physiotherapist has also been really convenient. It is also a real bonus being able to connect with other expecting mums and to hear the weekly baby-updates.

As a mother of one already and pregnant with my second child I decided that I would try and keep active during this pregnancy as I didn't with my first child and it was a very long and difficult labour. I found the classes both social and a good workout and was given a lot of tools to help build up strength for the birth and keep my body in some sort of shape during the 9 months of pregnancy. I would and have recommended friends to go and join up for the classes it's gives Mums tools and support while going through pregnancy and I'll be sure to carry on after child number 2 in the Mums and Bubs class.

I just want to thank you & all the lovely ladies at Active Pregnancy Active Mum. You have made my pregnancy journey one of absolute joy, fun & ease! I have been a gym attendee for 19 years now, God am I that old?! But never have I been made to feel so special & important as your classes make me feel. When you attend one of your classes, you actually do want to know if anyone is feeling any new aches, pains or discomforts, so you can help to improve the quality of their pregnancy, where as in most gyms, you realise it is a policy that they have to ask, yet the care factor is not there! The intimacy of your classes is so appealing, each week we are asked "any new stories/fun things happen since we were last together/anything you want to share"? Sharing with the class each new Mums pictures & birthing experiences. How personal & fun does that make the class? You are not treated as a number when you step in the door! For me the most amazing thing a women can do is go on the journey of motherhood, & enjoy every moment & realise that it is very special & important. That is exactly what the Active Pregnancy Active Mum promote & how they make you feel. I am so glad to have shared my journey with you & my many fellow "Mums to be". To share my journey with other women whom have been there or going there at the same time has made my journey more fun, less anxious & really enjoyable.

I am so glad I signed up for the 6 week Body Overhaul Program. The kilos had definitely piled on to my body after giving birth to my first child and breaking my ankle in my first 4 weeks of being a new mum! I was going back to work after this program and I was determined to get fit and healthy. Exercising was hard work but at the same time I enjoyed having time to myself to get out and exercise. By week 3 I was feeling the difference in my energy levels, strength in picking up my son and feeling great in my clothes. Well I was surprised by my fitness assessment results - I had lost quite a lot off my waist and my physiologic age was younger than my real age! I've signed up for another session and looking forward to beating my personal results whilst staying fit 'n' healthy even when I'm back at work full time and caring for my little one. I've told mums I know about this program as its the best intense program to help you achieve your personal goals in getting back into shape.

The 6-week body overhaul has been a great experience learning how to eat well and exercise regularly. The 3 weekly training sessions included many varied activities, which meant that exercising was, enjoyable and not a chore. It was great exercising and chatting with other mums at the same time. At the end of 6 weeks I had lost weight and reduced my body measurements, but also felt like I had more energy and endurance. I am really looking forward to the next overhaul to further improve on what I've already achieved.

After having had two children I have had little time to focus on myself, Body Overhaul has been great as it has given me the opportunity to re-focus on my health and fitness. The diet is family friendly and easy to follow, and the classes are hard work but very enjoyable. Since commencing overhaul I now have more energy and I no longer have any back pain, it has helped my lose weight and toned my muscles.

Julie's exercise classes have been fantastic. I rang her after reading about about the classes on the web as I thought that it would be good to try and get back into shape after having my baby. Julie is really friendly and helpful during the classes and the classes have a very friendly atmosphere which was great as the thought of starting up exercise was daunting enough! I have got so much more out of the classes than I thought that I would. Looking back, I had been trying to start up an exercise program after letting myself get so unfit for more than 10 years and after only a short while, I would always find an excuse to stop and let myself go again. Julie's classes have made me really enthusiastic about exercise again, I have enjoyed them so much. Every class has been completely different from the last and you never know what you're going to get at each class! This really does help with preventing you getting bored with the exercise which is what happens when you go to the gym and sit there riding a bike for 20min or pounding the treadmill - I think that was one of my main problems with all my previous attempts at exercise. I found that I was noticing big improvements in my fitness levels even with just one Mums and Bubs class per week, I am now doing the body overhaul and again, the results have been fantastic which really helps with your motivation when you can see and feel changes in your body. I look forward to the classes and a bit of 'me' time each week. I feel so much better about myself because I am healthier and getting confidence back in my appearance and I really feel that I have made a permanent change this time in regards to keeping active. I can now look forward to being able to keep up with my daughter when she starts running around everywhere whereas before I couldn't even carry on a conversation with someone if we were walking up a slight slope!! Thankyou so much Julie I would thoroughly reccommend your classes to anyone considering post natal exercise or even anyone that wants to get fit again.

I started Body Overhaul 6 weeks ago to start to try and shift some of the 9 kg I had remaining from pregnancy with my second baby. Each week I met up with a great bunch of ladies, some of whom had had babies and some who hadn't. Every session was different and tailored to each person's level of fitness and their own personal goals. The group sessions were fun and motivating and I looked forward to training days every week. It felt great to be seeing improvements in my fitness and waist line every week, and with the eating plan that Julie provided I now have some really tasty family friendly meals I use regularly. I'm rarely hungry! The best bit about the Overhaul was on assessment day after the 6 weeks. I was very pleasantly surprised to find out I'd lost 26cm from my body and reduced my fitness age by 11 years – I'm now physically 23!! Fit enough to sign up for another 6 weeks – I'm addicted!!

Overhaul was both challenging and very rewarding. Julie's personalised friendly approach along with the ladies I met made me look forward to attending every session. Even when I missed a few days I felt disappointed that I couldn't attend. I now have much more energy and a more positive approach to every day life. I will definitely miss the sessions and am looking forward to them starting again in the new year. I would highly recommend overhaul to anyone! It's the best thing I could have done for me after the birth of my son.

Thanks very much, I have really enjoyed the program and am motivated to achieve more, Thanks again for the great training and support.

Active Pregnancy has been such an important part of keeping me positive and motivated throughout my 1st pregnancy. I didn't expect to keep my shape throughout my pregnancy but I think coming to the classes has helped me stay on track. I looked forward to every class because not only did we get to exercise but it was great to chat with other Mum's to be. I will defiantly be coming to the Mums and Bubs classes! Thanks Julie for your positive and motivating outlook. Thanks, Bec Crompton October 2010I would like to say that these exercise classes are really helpful to maintain the good health throughout the pregnancy, and I would also like to add that its not just the exercise, but the advises that we receive from you and also the answers to the problems that you provide to us after each class are really helpful. I have successfully achieved my goal of joining the classes with you.

Just wanted to say a MASSIVE thank you to Julie for the classes, her happy smile and positive attitude, makes me think I might have half a chance at getting somewhat back into shape down the track ! Loved coming along each week and really look forward to getting back into it after baby.

I am currently 22 weeks into my second pregnancy and have been participating in Julies classes since my first trimester. I exercised throughout my first pregnancy with endless results. Its true what they say.. you really feel the difference after giving birth. Not only did I have no back pain, but I was able to shop for 8 hours without getting tired at 37 weeks pregnant! That's an achievement! After the birth of my baby, I was surprised to find my belly went back into shape in no time. I was always afraid of my post pregnancy body, but the exercise paid off and the results were loud and clear.I had an amazing pregnancy, and unbelievably I had no back pain, even though my baby was posterior! I had no hesitations to join Julies classes as soon as I fell pregnant with my second. Its not just the exercise, its such a warm feeling talking to so many other ladies that are also expecting, having a laugh and discussing things that non pregnant people (like our partners) just don't understand or find interesting! Julie's character and motivation can not be compared to. Each and every class is unique and I look forward to it every time. The classes help me not just physically, but emotionally. I don't feel helpless because I am making an effort to maintain a healthy pregnancy again.Exercising whilst pregnant allows me to have the energy to keep up with my busy lifestyle, including running a business and taking care of a 1 year old as well as a household. No matter how many people are in your class, Julie manages to provide personalized training, and keeps up with all our individual needs.During some classes she also educates us about factors that slip many of our minds,or topics that we don't get to pay much attention to, such as pelvic floor exercises, breathing techniques and birthing positions.

Going to this class makes me feel like I am doing something for me – it's enjoyable and can be done to suit your energy levels on the day – which is great when you are pregnant! Julie keeps the class fun and light and educates us on how to feel healthy while being pregnant!

I love the flexibility with the children. You are very understanding about unsettled nights and children coming first. I believe you are a great motivator and the best part of the class is that everyone works at their own level. You are talented in the way you allow those who need to start slow do so, and are able to keep extending those who are ready. I have been telling many of my friends how wonderful it is.

The classes make me feel Terrific. After starting the classes at 20 weeks, I have much less back pain, feel healthy & am sleeping really well. My OB is impressed with my weight gain & also how fit and healthy I am looking & feeling during this pregnancy. Thank you Julie for making me feel soo good" I hope this is ok. This is how I actually feel Julie. While away, my back pain was soo bad & I couldn't sleep. You, the classes and the other ladies make it soo enjoyable. Thank you

Active Pregnancy has been a fantastic experience for me both through my pregnancy and now as I am trying to get back to my pre-natal shape. Julie has a wealth of knowledge to support everyone's stage of pre and post natal exercise, thus her program is individualised to the needs of each person in the class. The classes are really personal, fun and the mums and bubs classes mean that i can exercise with my children, I only wish I had found these classes through my first pregnancy.

Julie's active pregnancy and beyond fitness classes have really helped me through my first pregnancy. Sharing laughs and stories with other first time mums and keeping physically fit at the same time has made pregnancy a fun experience. Julie's classes are something I look forward to each week!

When I had to give up some of my pre pregnancy exercise routines, I was thrilled to find out about Julie's Active Pregnancy classes. I have been attending weekly sessions for the last 3 months, and am still going strong only 2 weeks from my due date! Julie's classes have been fun, enjoyable, and a great way to have some 'me' time with a group of other expectant mums. I am certainly fitter than I was three months ago, and despite being well into my third trimester, have managed to avoid feeling too tired or fatigued – which I can only attribute to the benefits of increased energy due to regular exercise. Julie's classes emphasise important fitness elements for pregnancy, and preparation for the arrival of a new baby. She offers practical advice, recommendations and routines on maintaining a healthy pelvic floor, good posture, core strength, and general strength required to manage pregnancy, labour, and the arrival of a new baby. Julie's suggestions and advice to all participants on how to manage the various aches and pains of pregnancy have certainly impressed me as a health professional, and I would recommend her classes to women at any stage of pregnancy or fitness level. I look forward to attending her postnatal Mum and Bub classes to get back into shape after our arrival in a couple of weeks!

Julie's Active Pregnancy Classes are an important and fun weekly exercise class which I did during my pregnancy. The cardio, strengthening and relaxation exercises certainly helped me during birth and also helped me recover quickly after giving birth. After each class I felt energetic which was a nice welcome change from being constantly tired all the time! When I first started Julie's classes, my back was always sore during my pregnancy and when I asked Julie about it, she taught us correct posture and back strengthening exercises which I did at home and immediately noticed the improvement! Her wealth of knowledge shared along with the interaction of other mum's to be was invaluable and I always looked forward to each class.

Active Pregnancy continues to be a great experience for me as the classes are so much more than pure exercise. Julie creates a relaxed and open atmosphere that is very conducive to the sharing of her knowledge and expertise. As my due date draws near, I feel physically and emotionally strong and continue to have a positive outlook toward the pregnancy and the upcoming birth. I am quite thankful to Julie and the rest of the woman who participate in Active Pregnancy for sharing this special time in our lives.

Thank you for your wonderful classes and the energy you put in to them - I really don't think I would have felt as well as I did through to the end without them! Wish you did classes over this side!!!

Before starting the classes I wasn't sure of what to expect, but once I commenced the classes I was surprised at the amount of workout you can get even being pregnant. The things I enjoyed about the classes was the aerobic workouts. The workout doesn't only focus on one area of the body or muscle group but it provides an overall full body workout. The use of the fit balls are fantastic as they help balance the body without placing a lot of pressure on the legs or lower back.
The instructor is well experienced and knowledgeable about the health issues affecting pregnant women and is able to provide expert advice in reducing or eliminating pain associated with prenatal and postnatal pregnancy. The instructor also provides a personalised service through answering any questions you may have or assisting each person individually during workouts. Benefits- I found that ever since attending the pregnancy fitness classes I feel more energetic and confident about myself. Pain in my lower back and shoulders have reduced significantly. I am able to utilise the techniques used in the classes at home. I know the stretches and breathing techniques taught in the classes will assist me in preparing for labour.

My name is Amy Wilson and I am 27 years of age and pregnant with my first child. I started the pregnancy fitness classes 9 weeks ago and have felt great benefits from taking part in these classes. We do a variety of gentle cardio, boxing, pelvic floor, squats and breathing/posture techniques all of which I think help improve your overall fitness and just prepares you and your body to give birth. I enjoy having our weekly chats amongst our group of ladies about different pregnancy issues and topics. The pregnancy classes also allows you to ask and receive questions related to pregnancy which I also have benefited from.
I would highly recommend to join the pregnancy fitness classes with Julie because she makes you feel very welcome has so much energy and advice to offer and she keeps the classes fresh and exciting with her routines. Julie's positive and bubbly attitude makes you want to work harder and I find this very motivating.

I just wanted to say how I have ABSOLUTELY love coming along to your classes and am so happy to have found them when searching on the net. It was also a complete bonus that they were being held just down the road from where I live.
After having one bubba (who is now almost 2) and not exercising since he was born, I had been feeling like a frumpy old mum. Since starting the classes I have felt a whole lot better about myself. It's nice being in a class where you feel comfortable and are amongst other women that are in your same position. There is no need to feel intimidated...which is what kept me away from the gym...and the class is heaps of fun. Looking forward to lots more pre-natal and postnatal session.

Thanks Julie for the classes, Not only did it make me feel good about myself while being pregnant, but also gave the oppourtunity to interact with others so you don't feel so alone. I Would recommend your classes to anyone who is pregnant. It not only is a great confidence builder and a fantastic work out, but also is insightful with all the information you provide eg: diet, pelvic floor etc. Thank you once again for the experience, and once bub is out will be contacting you about getting back into shape after birth.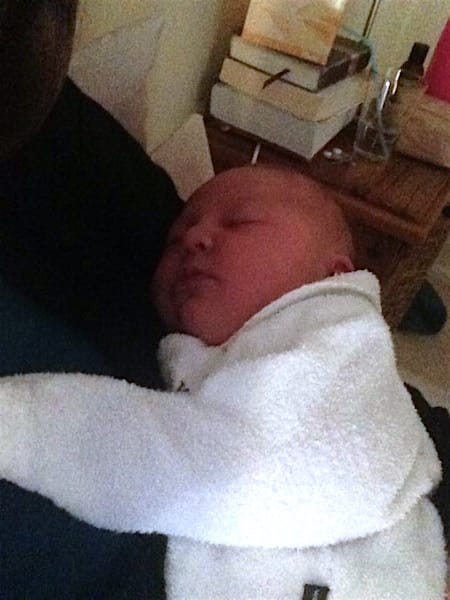 Welcome Georgia Ruth. 3.75kg. Born 3:31am this morning and home by midday! Classes surely played a huge part in a quick labour and feeling so good straight after. Thank you to my amazing trainers!!

I started going to Active Pregnancy exercise classes when I was 18 weeks pregnant. I tried to go to the gym and did some of the classes. They are not really catered for pregnant women. They make you feel out of place and 'abnormal'. I was happy that I found Julie's exercise classes. It was fun and made me feel alive again! Being a fan of body combat, I was surprise I could actually do combat on fit ball and sweat it out when I was pregnant! Julie emphasizes on lots of muscles strengthening exercises which will help us during and after pregnancy. I was doing Julie's Active Labour Exercises the day before I had Claire. Whether the Active Labour Exercises help, you be the judge! I brought my sister-in-law, Shannon, a mother of 3 who came for a visit from Brisbane to the exercise class. She absolutely loved it and reckoned every women regardless how many kids you have should do these exercises. It made us realized how important some simple muscles strengthening exercises are to keep us well & fit. Claire is 81/2 months and I am still going to Julie's post natal exercise classes. She is very friendly and encouraging. She is very knowledgeable in what she is doing and her classes are fun. So come & have fun with us!

Just a short note to say thank you and how much I thoroughly enjoy the Active Pregnancy Fitness Classes. This is my first pregnancy and am anxious about my limits when it comes to exercising. I have always been a very active and fit person, and would attend my local gym 3 to 4 times per week to maintain my cardio and strength fitness, along with playing netball. When I fell pregnant, I kept up my cardio exercise regime for the first 14 weeks (and dropped the strength as I was so unsure of how hard I could push myself - not wanting to harm the baby). I started to get tired at the gym, the treadmill and exercise bike just weren't standing up to the challenge to keep me entertained during my workout. So I "googled" pregnancy and exercise in my local area and found Active Pregnancy & Beyond. I was hesitant at first, but after speaking to Lisa on the phone before my first class I was reassured that it was the best thing for me to do. My first class was so exciting and I just loved it. Julie was welcoming, full of energy and I gained a lot of information of what I might expect for the duration of my pregnancy, just from the first lesson. Julie explains how far you can push yourself (especially for very active people like myself) and what precautions you should take. I enjoyed my Monday class so much that I started going Thursdays as well. I also began Yoga ona Wednesday to maintain my sense of "calm" throughout the pregnancy and also to prepare me for a tough labour should it occur.
I would definitely recommend Active Pregnancy & Beyond to any mother-to-be. They have so many services to offer. I will definitely be going back after our baby is born for Mums & Bubs class. Thanks so much for all of your help and assistance so far.

I just wanted to say a big "Thank you!" to you and your trainers for providing such a great service for all of us busy mums! After joining Activemum a little over a year ago I have learned so much about the importance of physical activity and the effect it has on my mental and physical health. I feel very blessed to have found such a warm, friendly and caring environment to train. I feel so much better mentally and physically! I actually look forward to exercise class every week! You have changed my life.

Active Mum I tell my husband all the time that active mum has been the best investment I've made! Not just for the support and fitness but the people I've met who have made ALL the difference and honestly I don't know what I would do without them!

I really love the atmosphere & how friendly the staff & other women are in the classes. I was nervous about starting up a pregnancy exercise class half way through my IVF pregnancy but there was women in all different stages of their pregnancy so that made me feel better. I love the music & variations of the exercises so it fits well with women with all different fitness levels & I felt so relaxed afterwards.

I started going to Active Mum after a couple of years of not exercising much at all. I was really nervous about how I would go given my level of un-fitness! However I found the classes really enjoyable. The trainers are really friendly and motivating - they encourage you to work hard but maintain a relaxed and positive environment throughout. They are good at tailoring the classes to different levels of fitness and although I'm super sore after my first week I'm excited to keep going!

All three of the pregnancy classes are great! Only after a short time, I already feel stronger and have more energy. It's also nice to take the time out and solely focus on maintaining my fitness for not only myself but also for bub. I look forward to the classes every week, as it's nice to be in a non-judgmental environment where everyone in the class is on the same journey as you. I highly recommend them!

I really enjoyed the classes because I was very active before I became pregnant and as my energy levels dropped I became uncertain of what exercise was okay and not okay to continue with. Now that I have regular classes to attend I am feeling more confident about being able to maintain a healthy lifestyle during my pregnancy and to stay active once bub arrives. Also, being the first of my friends to become pregnant, it has been great to spend some time around other mums-to-be.

I have always had a love-hate relationship with food and exercise. I tried all the diets, joined gyms and yet I could never quite commit to any of them. Often information about exercise and food are a walking contradiction. Eat fat...don't eat fat...stay away from carbs...paleo...sugar free...the list is never ending.
I gained 25kg during 1st pregnancy and then lost 15kg . I gained 9kg with my second pregnancy and 7kg. However, the poor eating habits were already in full swing and the plans to exercise after the 6 week window disappeared. I couldn't fit into my old clothes and my dress size was slowly creeping up. I felt embarrassed to see friends especially those who had babies around the same time as me and were back to their pre-pregnancy body. I had no energy to keep up with my 2 year old and would tire easily walking distances.
I had visited the Active Mum website a few times and thought about joining but I kept putting it off. So there I was sitting on the couch having what seemed like my 100th chocolate and all I kept thinking was "I'm not even hungry...why do I keep eating? "I felt depressed that I let myself go and wanted to hide from the world. Then fate intervened...I got an email from Active Mum about the fit and lean project which was a 12 body transformation program. I registered straightaway because I knew that if I didn't change my life now then it would never happen.
Julie is a positive and inspirational trainer who is dedicated to improving the health and happiness of all the mothers out there. I was completely unfit at the start of the program but all the trainers were wonderful and encouraging which pushed me to keep going on this new journey. Overtime I really started to feel the benefits of the fit and lean training - I had more energy and my clothes were becoming loose. I started to clean up my eating habits with Julie's guidance and from the support of the Active Mum community. I actually cook now which was previously foreign to me! I enjoy delicious and healthy food and never feel deprived of any sort. I can play with my 2 year old now without getting tired which means the absolute world to me.
I enjoy training with all the other mothers who have taken the step to make permanent and positive changes. I never liked gyms and felt they were quite intimidating and impersonal. Whereas I always look forward to training with Active Mum and knowing that I'm well supported there. I like that the program caters to all fitness levels and work around any injuries and/or post pregnancy changes. I'm one of the rare people who now enjoy doing burpees, planks and push ups!!