Get Functional Pregnancy Fitness Training From The Experts At Active Mum
Staying active and stress free has many benefits for mums-to-be. Our aim at Active Pregnancy Active Mum is to provide women with the tools that they need to exercise safely & effectively through pregnancy & into motherhood.
Our program covers all facets of functional pregnancy & post natal fitness including Cardiovascular training, Strength, Core, Pelvic Floor & Flexibility training and relaxation.
Our Active Pregnancy Fitness Class In Castle Hill Has Endless Benefits For Mums-To-Be!
We offer a complete program that covers everything you need to know to keep your body fit, healthy & strong during your pregnancy, and a succession plan to help rebuild your pre-baby body safely after birth. Our programs are designed specifically to suit a women at this beautiful time in her life. During the 40 weeks of pregnancy the body undergoes dramatic, physiological & structural changes, and post-natally the body must recuperate from those changes. Our programs are designed to help your body better cope with those changes, resulting in a more comfortable pregnancy and faster return to your former shape & strength after the birth of your baby.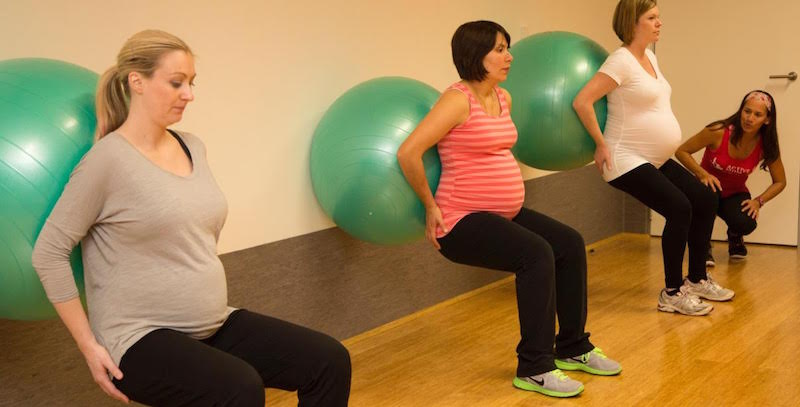 Our classes are fun & are tailored to all levels of fitness:
Improve energy levels
Boost self esteem
Reduce back pain
Develop strength
Improve endurance
Strengthen the core & pelvic floor
Avoid extra weight gain
Reduce stress
Faster post-natal recovery
Meet new friends
Every women has the right to feel good about her body and embrace her changing shape during pregnancy & beyond without suffering from excessive weight gain & back and pelvic pain. The body can be healthy, fit, strong & toned during pregnancy and after birth, our program will help you achieve this.
"Active Pregnancy Has Been Such An Important Part Of My Pregnancy Journey. Classes Are Fun And Meeting Other Pregnant Women In The Area Has Been Fantastic."
You can also attend our Mums & Bubs Pilates & Yoga classes that suit your schedule.
What to wear & bring to class:
Wear comfortable light clothing that is not restrictive, and breaths well
Water Bottle (staying well hydrated is very important)
Towel
Good supportive sandshoes
Please have something to eat about an hour before class, i.e. a banana or sandwich, and pack a snack for after or during class
Start Your Healthy Pregnancy Today With The Active Pregnancy Program At Active Mum!
Fill out the short form on the side of this page to receive more information, to request a FREE consultation or to make a booking.
Active Mum Studio Locations